SS Comm'l Truck Angled Spring Loaded Mud Flap Hanger Kit RH & LH SS 1.125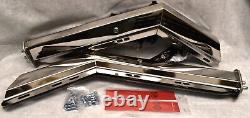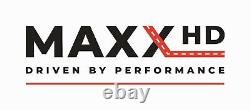 Commercial Truck Stainless Steel Angled Spring Loaded Mud Flap Bracket Hanger Kit RH & LH PAIR - Stainless Steel. THIS MAXX HD COMMERCIAL TRUCK STAINLESS STEEL ANGLED SPRING LOADED MUD FLAP BRACKET KIT. THIS BRACKET PAIR IS FOR THE RIGHT HAND SIDE & LEFT HAND SIDE LOOKING FROM THE BACK OF THE TRUCK.
THESE HANGERS DO HAVE 1.125 MOUNTING CENTERS. THESE ARE BRAND NEW AND WILL COME WITH AN ADHESIVE REFLECTOR AND ALSO A MUD FLAP BRACKET BOLT KIT. THE PART NUMBER FOR THIS SUPPORT BRACKET HANGER KIT IS FOR 1 - SYSTBK301-3. WE SUPPLY ALL DIFFERENT TYPES OF COMMERCIAL TRUCK AND TRAILER PARTS AS YOU WILL SEE MORE AND MORE OF OUR LISTINGS. THANK YOU FOR LOOKING AND HAVE A GREAT DAY.