Stainless Steel Bolt Kit Chevy 1947 1951 Chevrolet Short Bed Stepside Truck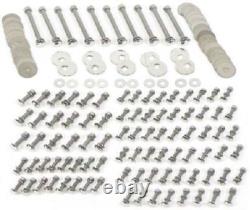 We will do everything we can to meet your expectations and earn your business. 1947 - 1951 Chevy Short Stepside Unp. Olished Stainless for Standard Angles, Bed Strips and Bed Wood with Standard Mounting Holes.
Hardware kit includes all the bolts, nuts and washers to install the bed wood, bed strips and angle strips. This includes the bed-to-frame bolts. The bolts in this kit are carriage bolts, which means they have a smooth, rounded head and a square shoulder to fit into a square hole. Unpolished bolt kits have a matte finish. Bolts shown in picture are polished stainless.
Bolt Kits may vary depending on year. We've been in business for over ten years and are committed to providing excellent customer service and parts.
If you have any questions or problems, we are more than happy to assist you with your concerns. We would welcome the opportunity to earn your trust and deliver you the best service in the industry.