Chevrolet Chevy Pickup Truck Polished Stainless Steel Bolt Kit 1940-1945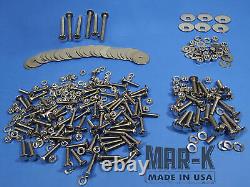 Polished stainless steel bolt kit. Made for standard angles, bed strips and bed wood with standard mounting holes. Hardware kit includes all the bolts, nuts, washers and lock washers to install the bed wood, bed strips and angle strips. This includes the bed-to-frame bolts.
The bolts in this kit are carriage bolts, which means they have a smooth, rounded head and a square shoulder to fit into a square hole. Polished bolt kits are very shiny, giving them a "chrome" look.