Stainless Steel Triangulated Full Size 4 Link Kit for 1994-2004 Chevy Truck S10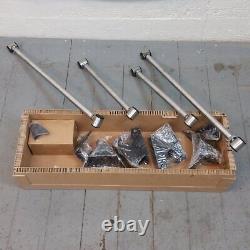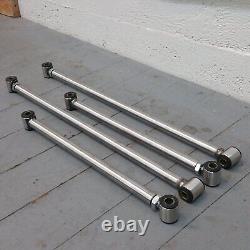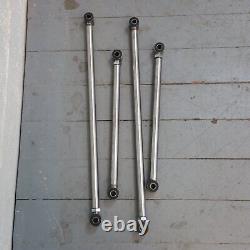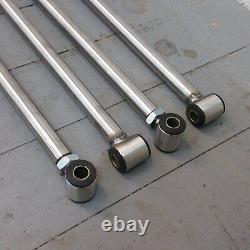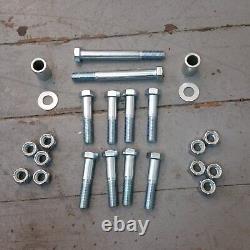 Top End Speed was founded on 3 principals. Weve worked hard to take care of our customers and treat you the way that we ourselves want to be treated, and that has led to much of our success and Top End Reputation!
Over the years we have grown to become one of the industry leaders in Hot Rod, Street Rod, Muscle Car, Vintage Truck, Track & Strip Car, Pro Touring and even Late Model parts and accessories for just about anything you can think of to upgrade your vehicles performance. As we look towards the future, we are always researching & adding new technology and advanced products & services to our already loaded parts and accessories inventory! So keep us at the TOP of your list as your one stop performance parts & accessories shop and we will show you why we are at the TOP in the business by offering you TOP END products at the best prices with unmatched TOP END service. Order your kits from the #1 rear four link kit reseller in the world! Pick from the top brands and get the best service! We offer more rear four link kits then anyone and can help you pick the correct kit for your vehicle. Several performance packages and upgrades are available. The kit below is one of the most popular for 1999 Chevrolet S10. Designed in the USA only JLM blends todays advance technology, and safety standard at an affordable price.
JLM is the only US brands who offers kits that exceed stringent ADR ratings. JLM rear four link kits are the choice of the top builders and racers who depend on quality and performance. JLM rear four link kits features heavy duty weld on brackets for a variety of suspension geometry and smooth installation. JLMs Triangulated 4-Link Kit system is stronger than the rest!
156 wall tubing that is the standard in drag racing applications, JLMs full-sized 4-link kit will remain straight and perfectly aligned under even the most demanding applications. JLMs unique adjustable 4-link design features extra long 28 inch main bars and 18 inch secondary bars to provide you with the maximum in suspension travel and adjustability. Brass sleeved bushings guarantee a lifetime of squeak-free operation. Completely welded for maximum strength.
All mounts are cut from 1/4 plate. Special infinitely adjustable CNC machined threaded rod ends are thicker than usual and thread over 2.5 inches into the 4-link tubes for both strength and adjustability. Fully plated Grade 8 mounting hardware included.
Looking for the perfect fitment? JLM unique advance bracket system has been proven overtime to fit the 1999 Chevrolet S10 with optimal results.
This makes this kit ideal for all different types of performance installations. JLM offers several Rear 4-Link kits in Economy and Deluxe configurations with or without shocks. The kit in this listing details are below. It is designed with heavy duty weld on brackets to ensure maximum power transfer and adjustability.
The unique heavy duty brackets allow for several installation positions for you 1999 Chevrolet S10. This kit can be installed for drag strip or street use.
Coilover shocks are not included but available. There are several styles of coiler shocks you can choose from based on your application and vehicle use. Please note the images in this listing are shown for reference only.
All parts are raw or painted, not chromed or polished. Stock photos may not be an exact representation of the item.
Please read all product info, descriptions and terms before purchasing. All of your items fit in one box.